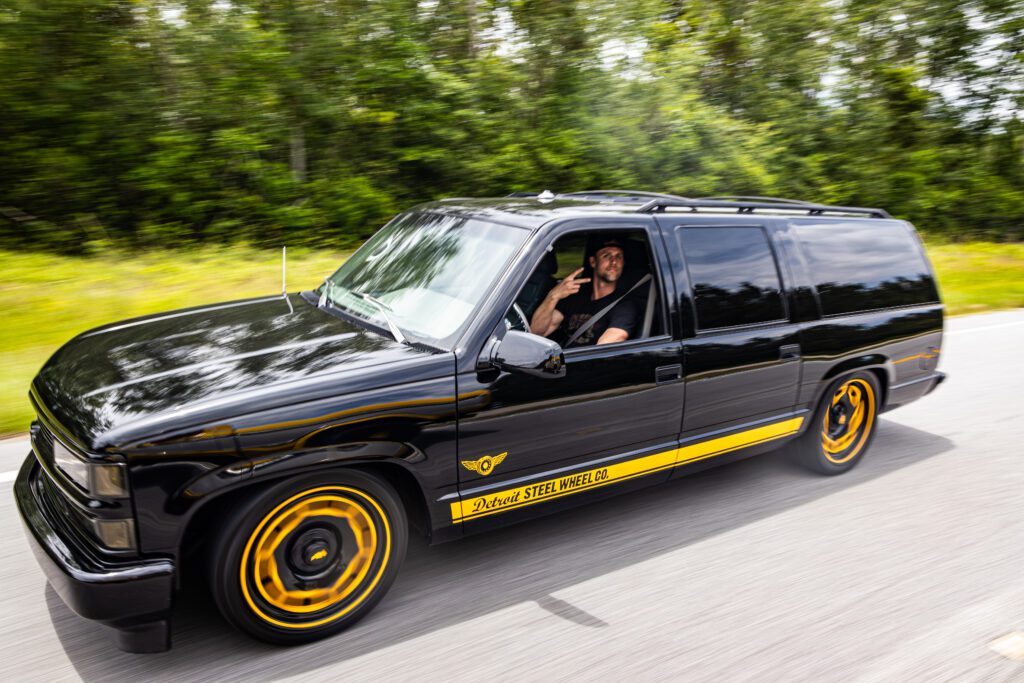 From Atlanta to Bristol, these Southern stops were filled with great rides, and amazing people.
Don't feel like reading? Watch our whole Power Tour experience, here.
With every new spring comes the hope that you can hop online and get registered for the biggest traveling car show in the United States; Hot Rod Magazines Hot Rod Power Tour. Beginning in 1995, Mototrend has presented to the public Power Tour, or HRPT as it's typically tagged, and enthusiasts from all over jump at the chance to register their ride and earn the coveted title of a "Long Hauler", one who successfully collects all the proper punches in their card at every speedway stop. The length of the tour has dropped from 7 days to 5, more doable for the day jobs, and promises a daily car show in 5 different cities raceways throughout the country. There's a route map with pit stops for photos, or you can roll with a crew and bypass the traffic, though you do miss out on the backroads filled with excited folks posted up at their house or local businesses to catch the show.
For the last 2 years we've ran rides with our friends at Pilot Transport, with a mostly Detroit Steel Wheel based crew dominating their display. This year, Weavers Customs debuted their 1969 Scout, rocking a slick set of our 20″ Macks.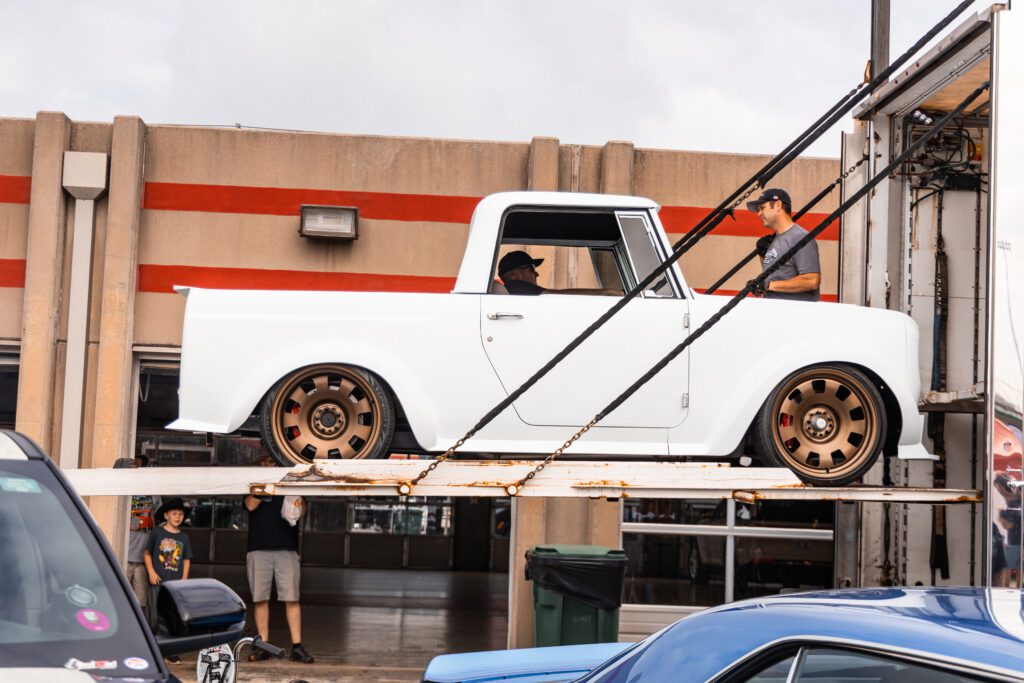 Our buddy Brian Measel of Pilot Transport unloading Randy Weaver in his '69 Scout build.
Day 1 was at Atlanta Motor Speedway, and by noon the place was packed. I (as in me, Emma) made sure Adam and Steve had my electric scooter packed, and as soon as I landed at our '95 Suburban (more on that later) I busted it out and got started on tracking down all the rides running Detroit Steel Wheels.
The first I found was Dan Newby and his Ford COE. He and his son Joe are seasoned long haulers, I mean he loves driving so much he drove from Georgia to Detroit to pick up his set of Delrays for this. A lot went into it, I believe his son Joe provided the shells from the Apache Hellicopters he works on, and his other son who works at the Hersheys Chocolate Factory gave him the pipes. Trucks running thick with character, and we got some incredible rolling shots of it when we met up with them the next morning.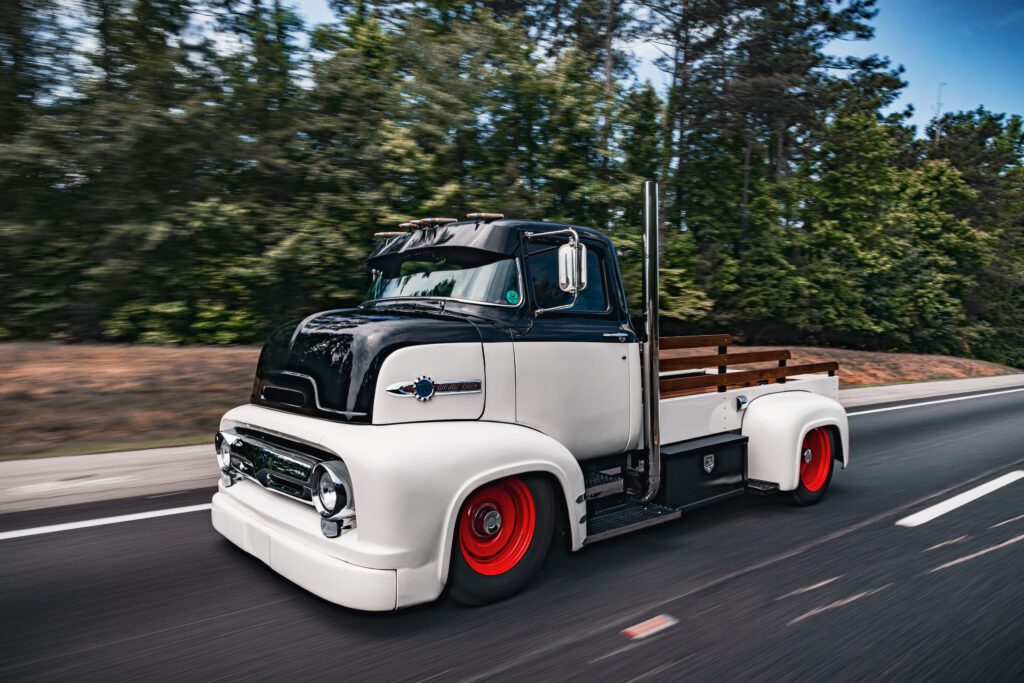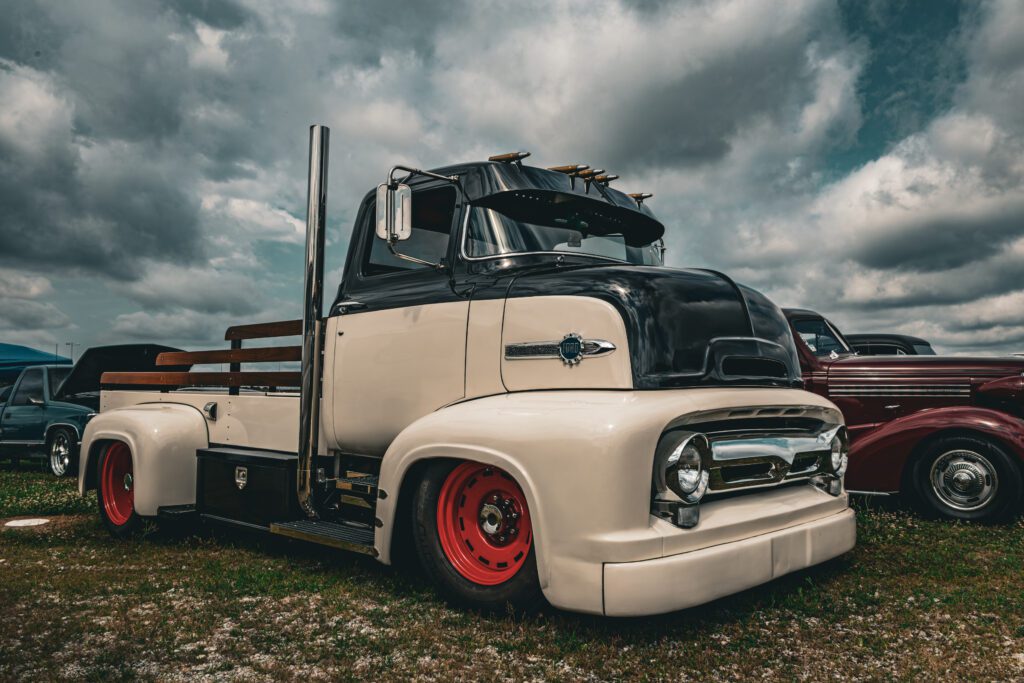 Dan isn't on IG, but his son Joe is as @newby_j
Back at the Pilot booth, hometown hero Joe Parks, GM of Pilot, was getting his '65 Coyote Swap F100 set up. It's running our John R's, which I'm so excited to have launched to the public once we get the green light.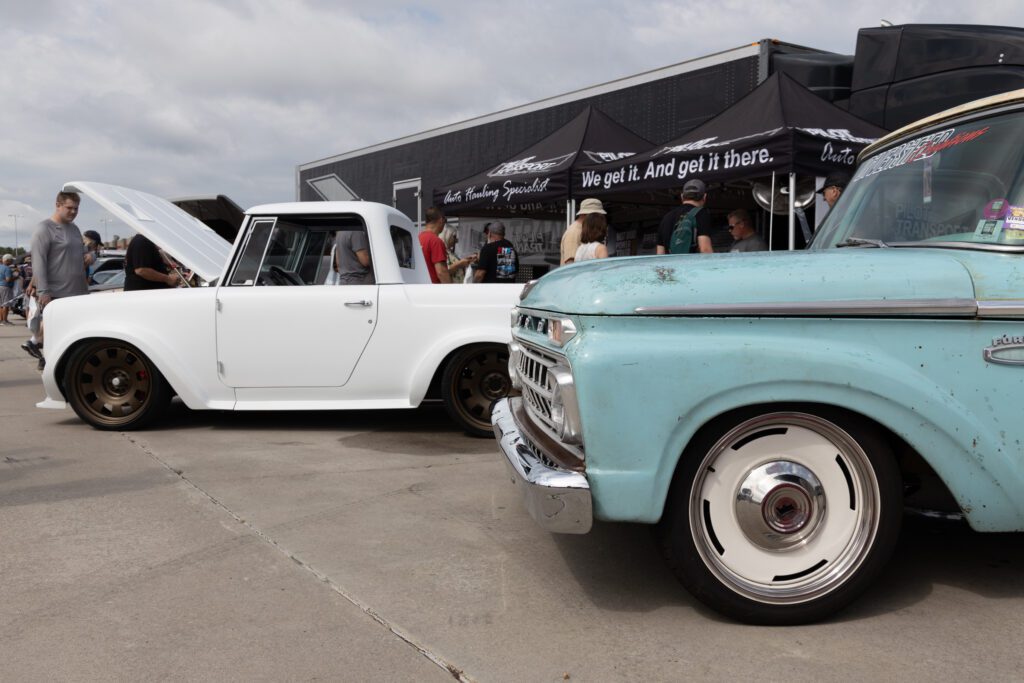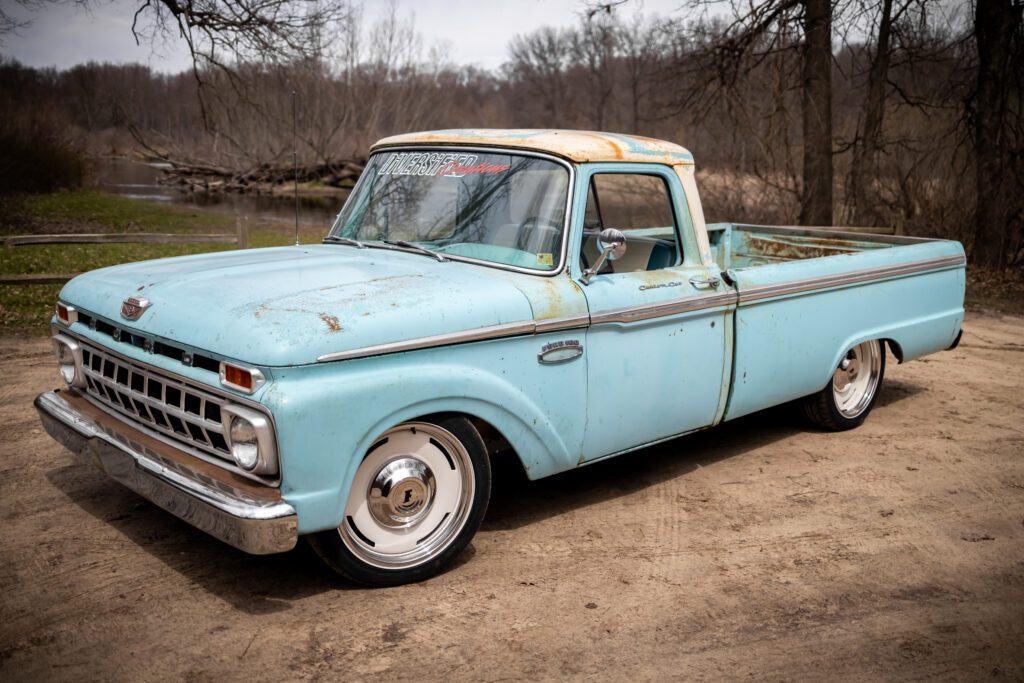 Speaking of hometown heroes, our boy Bobby made it out in his sick '66 Lincoln Continental, smoothing things out sans vinyl top and laying low on our Ambassador's.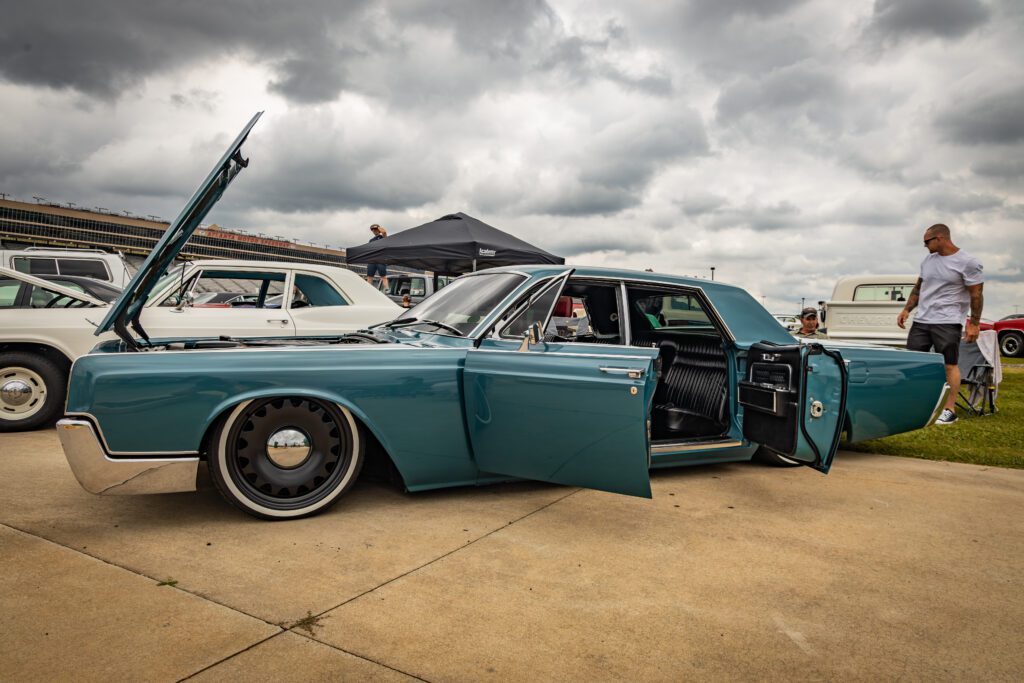 And another iconic Michigander is Eric Buck and his Insane Asylum Bus. Always love seeing this at Hotwheels Legends Tour, and honestly this has got to be one helluva hauler. Space is a luxury on these streets.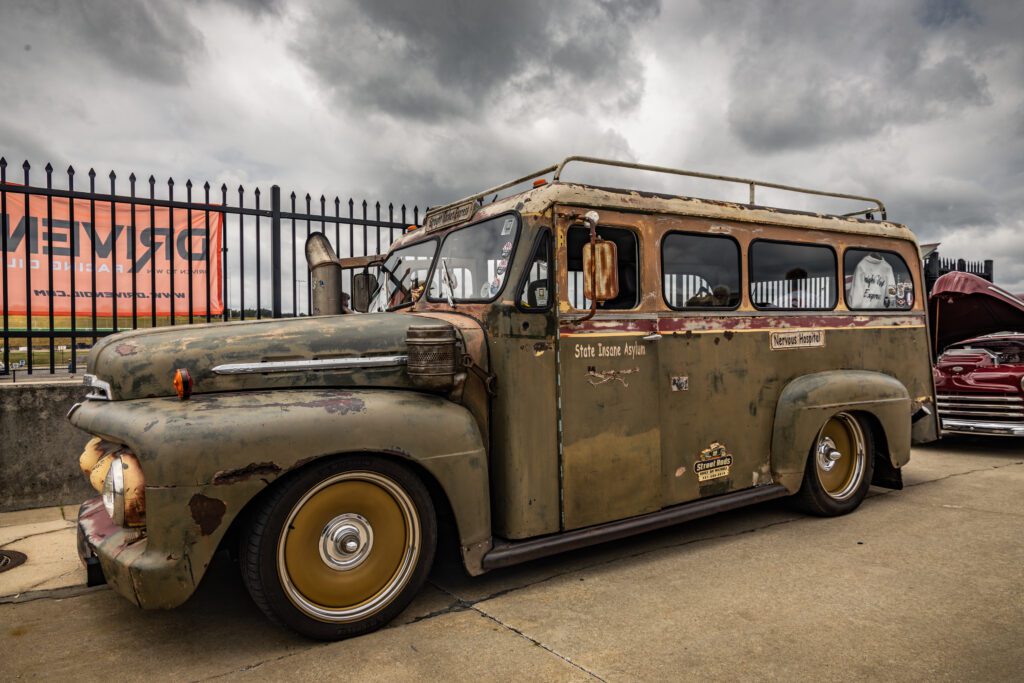 Day 2 a crew of us met up at Buc-ee's, as is tradition, and started heading north-ish to South Carolina. We had Anthony and Donald in the '55 Coyote F100, and Lou in his '67 Coyote F100. Known Lou for a while now, all the cool kids do, but this was a first hanging out with Anthony and Donald. Awesome getting to snap pics of these guys cruising!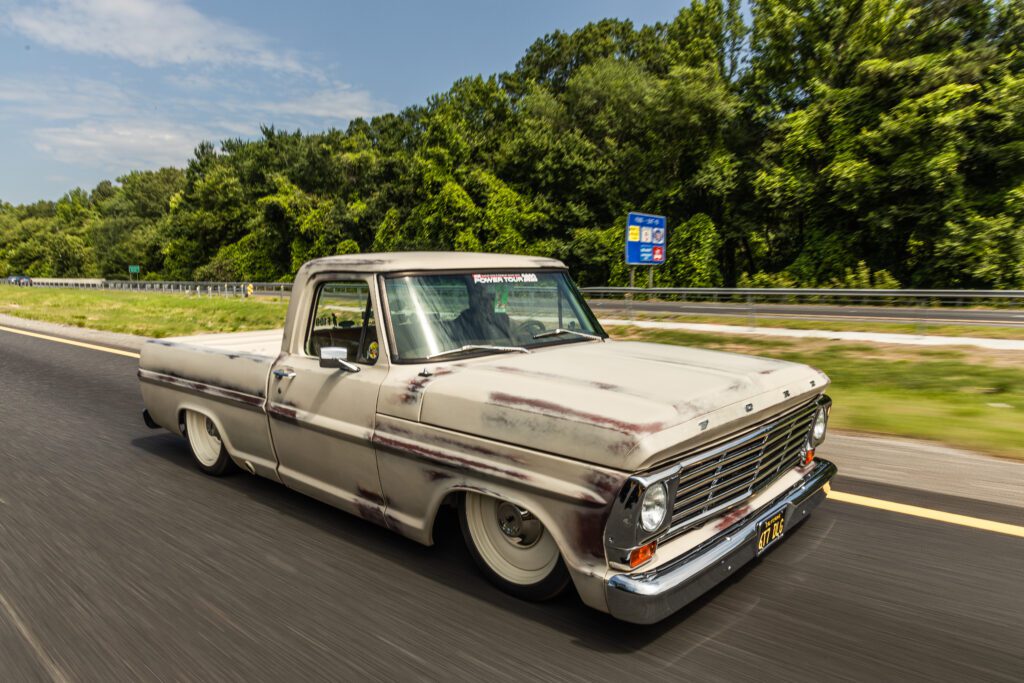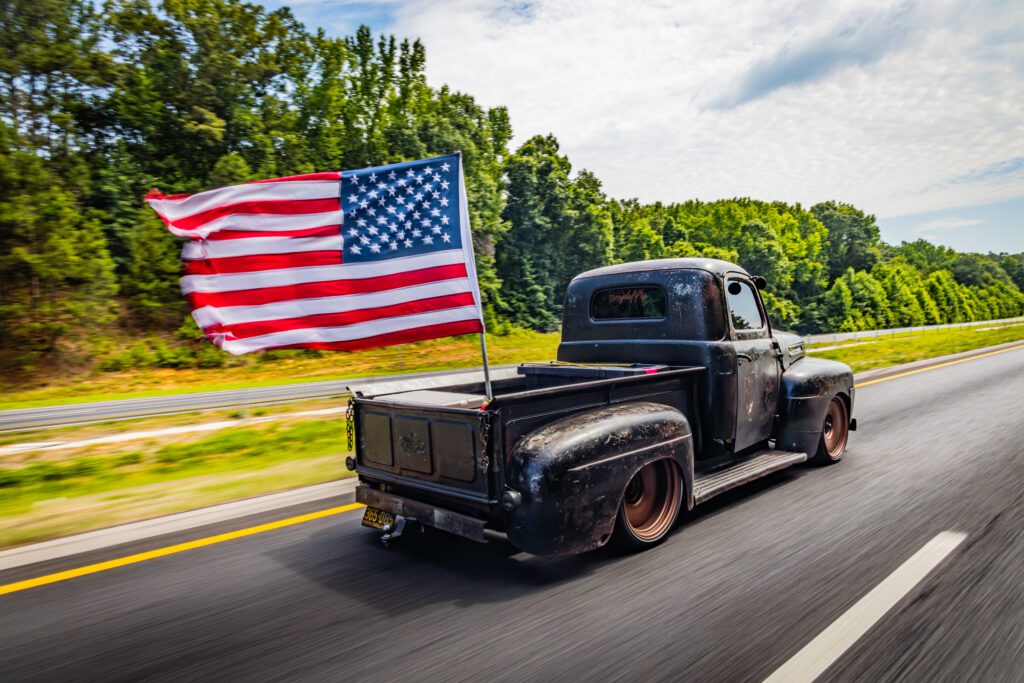 Maybe you're asking yourself right now "what were Adam, Steve, and Emma driving to get all of these rolling pics?" and if you weren't asking, I'm gonna go ahead with my cliche anyway and show you.
This Power Tour we flexed our OBS street cred pass, popping off with our '95 Detroit Steel Wheel Suburban.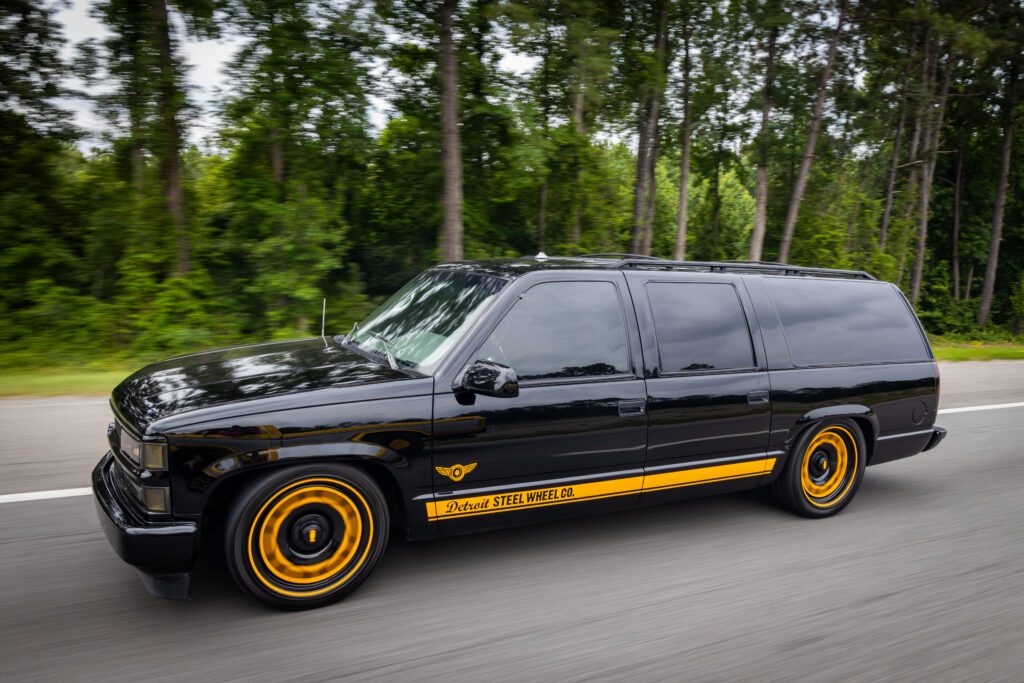 I mentioned the luxury of space earlier, and let me tell you this baby had everything we needed for a road trip. Actually you can see how the pickup from Kansas City went for Adam and Steve, here.
Snacks, sunscreen, tools, a spare, luggage, camera equipment, and my beloved electric scooter. All to help us survive in style and capture my pride and joy. That of course is our Motorcity Vice coupe.
A very scruffy Emma with everything she's ever needed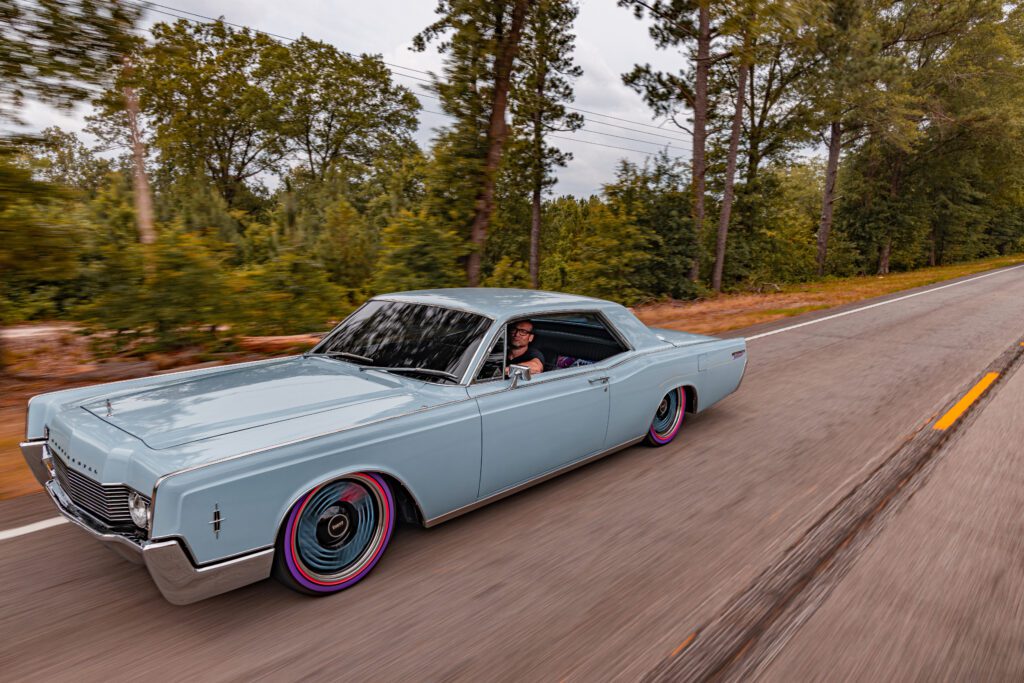 Adam mobbin like THE boss
MCV and the Burb handled Power Tour like champs, and it was really rewarding getting to share them with everyone. TBD on Power Tour 2024, but we will announce what plans are in the future!