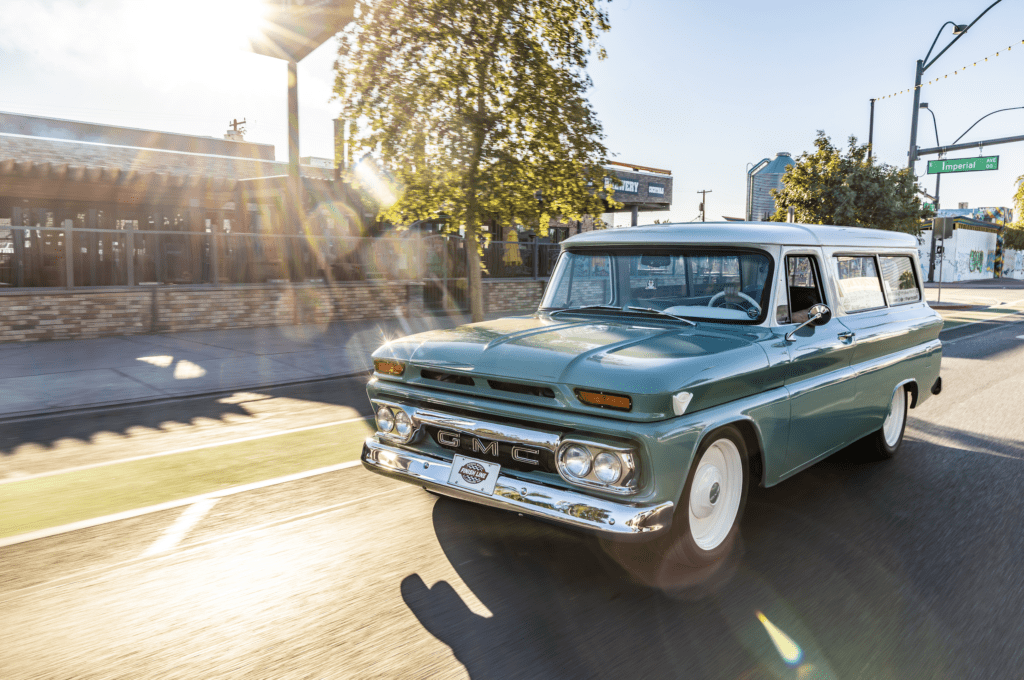 Every year I hit the SEMA show to cover all the vehicles on our Detroit Steel Wheels. Since the wrinkle in time that was 2019-2021, I have to say, this show really brought me back to that pre-covid SEMA feeling.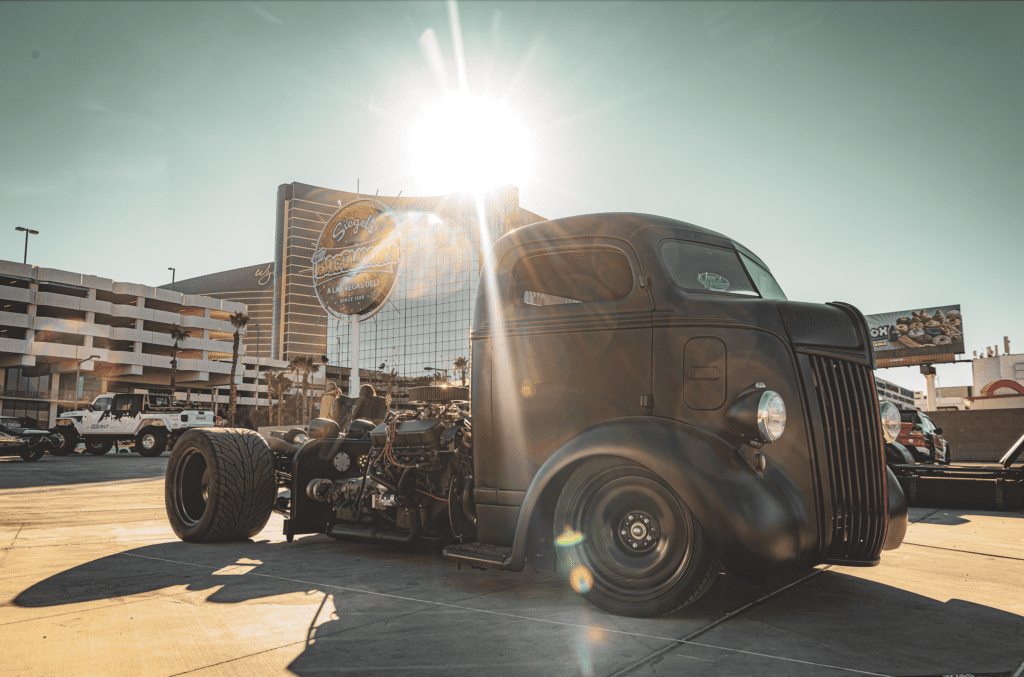 Josh Fellman brought this killer COE running D-Town's.
I'm coming fresh off a Sunday to Sunday SEMA week, extremely happy to be out of the Vegas bubble but also absolutely riding the wave of pride for what our team has built with our products. Whenever I come back from these events, the first thing I do is tell our crew how amazing they are, because we work so close with our product not everyone gets to see the impact on a scale like SEMA.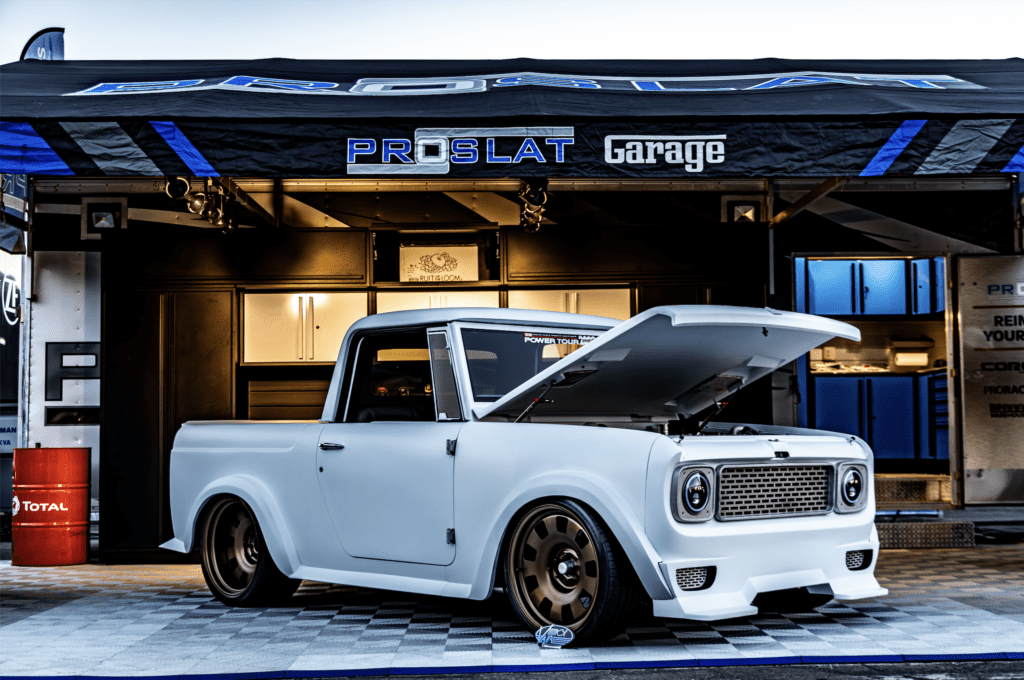 Weaver Customs 1969 Scout out front at SEMA, check out our shots of it in the December issue of Street Trucks!
Started the show by scooting around on Sunday set up day and catching Weaver Customs Scout out front of SEMA central. Interviewed Syd, I love that they describe this like driving a GoKart around, it's such a unique build and I love that they pull the interior color out with the color on our Mack's. Next stop for this will be crossing the block at Barrett Jackson!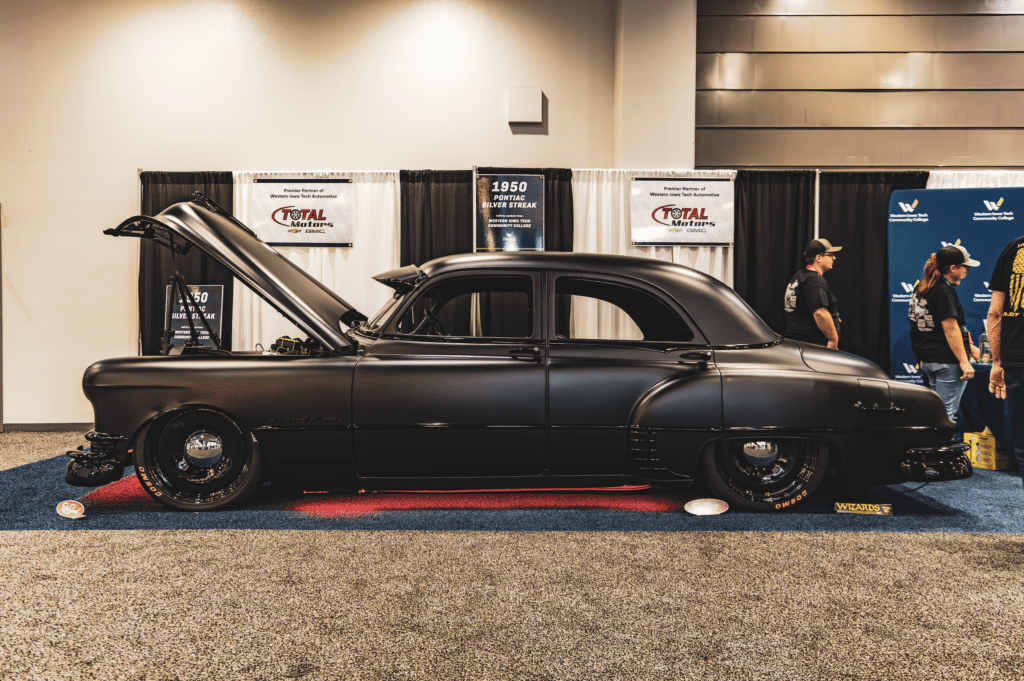 The Western Iowa Tech College brought this gangster 1950 Pontiac Silver Streak in North Hall.
So, everyone knows we here at Mobsteel and Detroit Steel Wheel are all about getting the next generation involved in our industry. That's our future, right? Well the crew from Western Iowa Tech are fantastic examples of what our future holds with investments being made into their students that will create more opportunities bettering us all. How cool is it that they are coming to SEMA for their first time, 18-21 years old, with a featured SEMA vehicle under their belt. I got to interview Chris who was integral to the tear down process on this, and also was shamelessly a big fan of our wheels. I have more pictures of it posted below and on our social (obviously) that show off all the intricacies. Kept it OG with the straight eight, and had a menacing stance at the show. They should be incredibly proud of themselves!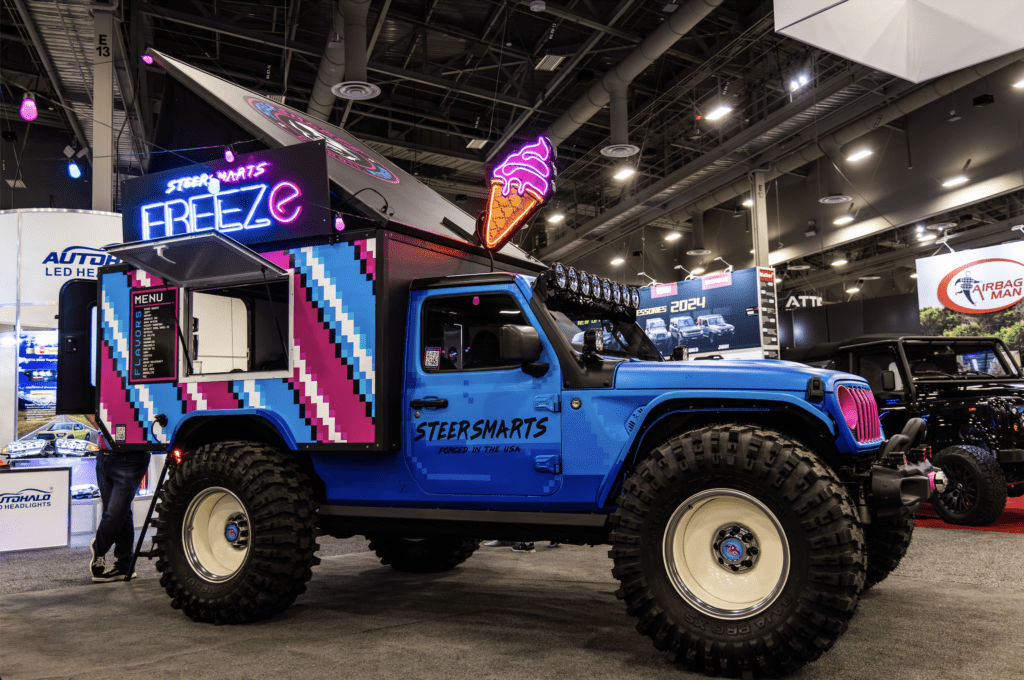 You ain't seen nothing like the Steer Smarts Jeep.
Our fellow Michigan crew at Steer Smarts came to us with an idea. "Think retro ice cream truck." We said "say less," and together the FREEZE Jeep was scooped into existence. Adam and Steve go way back with Jay, and Andy with his crew hit that SEMA crunch hard to get it to the show. They wanted to run 43″s (right?) and went with our 20×11″ D-Town's in our gloss white to give it that base vanilla to dress up with all the fixings. This held an outrageously stoked crowed of viewers from the minute they revealed it on Tuesday. I for one am OBSESSED, especially with the vibes we've been putting out here at the shop. I cant wait to get a photoshoot set up with our Lincoln and this thing, thinking a nice low light setting with some light painting, the works!
Tim Morgan with Spanesi got his Hot Rod looking right on our Ambassador's.
Adam and Steve have been friends with Tim Morgan for a long time, and he came to us looking for a set of wheels to debut on his upgraded ratrod at his Spanesi booth in south upper. The crew there killed it with the display, I'll have a lot of that functionality showed off in our interview with Tim. My favorite part about talking with him was the amount of pride he has in his crew, when you've been with a company for as long as he has, you get to know your team like family. Being able to operate to that capacity but also really care about one another creates great character for a companies infrastructure. One of our core values here at Mobsteel and Detroit Steel Wheel, that's that like minded individual aspect.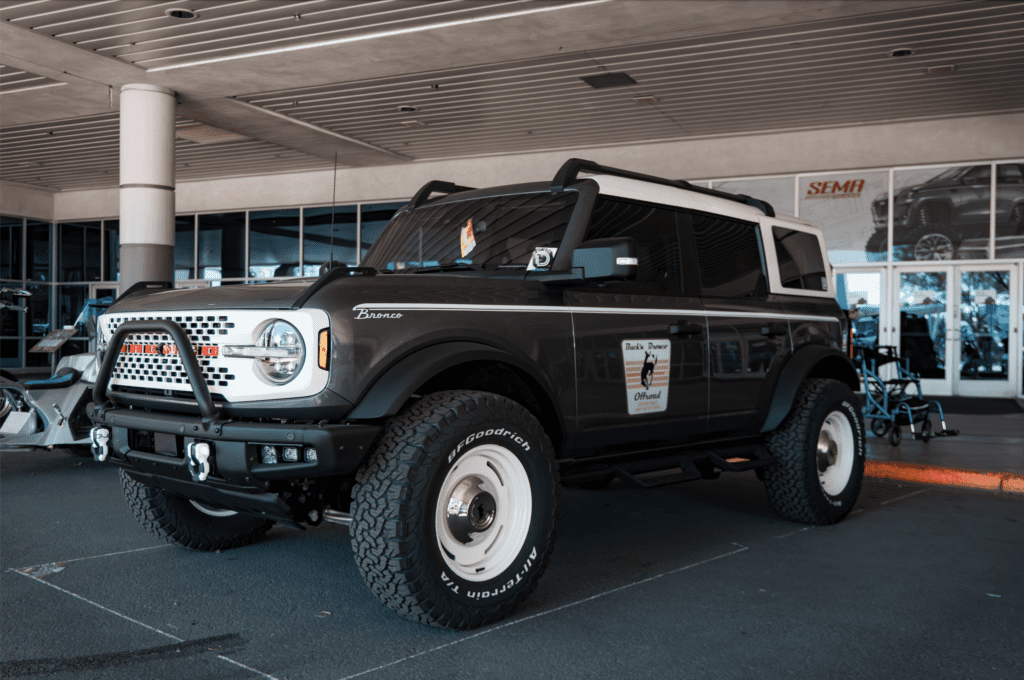 The Buck'n Bronco Offroad Adventures 2023 Bronco
Vegas natives Walter and Matt brought their 2023 Buck'n Bronco kicking off their Vegas tour and rental's group to the show! Veteran owned and operated, these guys went from forming their Sincity Bronco club to opening it to the masses for anyone traveling to or living in Vegas that want to have some fun. You can have one of their guides give you a taste of Vegas outside of the strip, or rent and explore for yourself. They told me this one will be available to rent, and they want to get some more of our steelies on the provided Broncos. Nice splash of Detroit for all your Las Vegas offroad adventures!
Clay Kirkseys '66 sitting on our Ambassadors rolling into the show
The surprises are the best, I was walking through the rollup of rides out front and saw Clay and his crew coming in. Seen it on IG and always loved that he let out Ambassador's rust and clear coated over them. Nicknamed "Gerald" (love that) Clay had this posted up elegantly outside of west hall, perfect spot for some sick sunset pics. Also killed his interview, which I'm currently editing at the same time as writing this so I should have a hyperlink up in here sometime soon.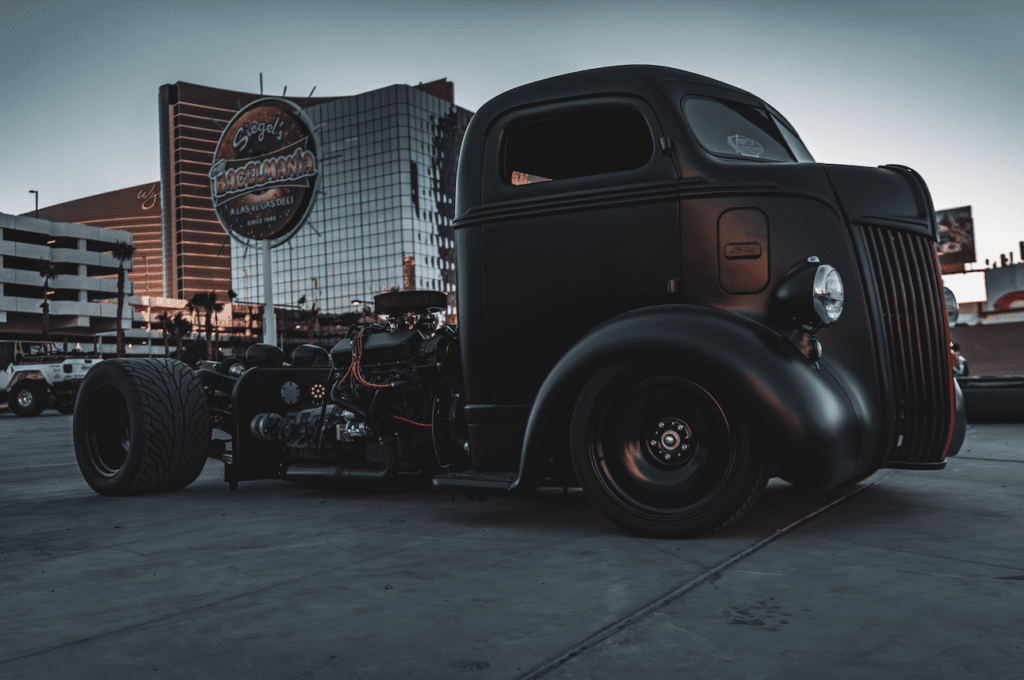 Josh Fellman brought his cabover, posted up outside of the tesla loop
Another surprise was Josh and his COE, posted up right outside of west hall by the Tesla loop. That was so cool coming up from the tunnel to see this sitting epically in the sunset. I always hit them with the "Sir? Sir? Is this your vehicle? Hi, Emma from Mobsteel/ Detroit Steel Wheel", and then the bombardment of cross promotion proceeds. Josh bought this as it was switching hands a bit, he dove into it in our interview. He and his family are a little outside of Tulsa, and plan on taking this to the Darryl Starbird show in February. Always been a bucket list show for me and I'd love to get some more shots of this!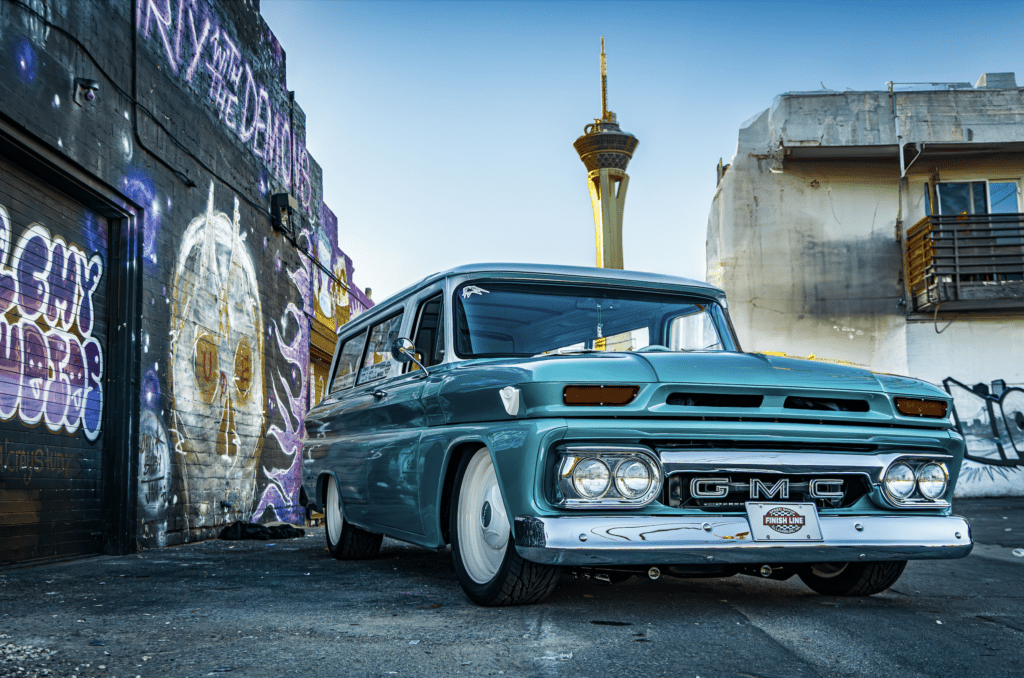 Lyon from Finishline Speed Shop at our art district photoshoot
The first time I saw the Finishline GMC Suburban was SEMA 2018, also my first time at SEMA. We covered it on my ridiculously rigged out iPhone set up with big fat wireless mics connected to my gimbal. Many marketing firsts that year, but Lyon and his family made it super fun and easy. Since then they've made some upgrades, and had it featured in central hall on our D-Town's. We've known the Finishline crew for a while now, had an awesome time snapping pics of their '49 from SEMA 2019 in the Vegas art district, and covering the burb out there this year was a ton of fun. Just a gorgeous clean cruiser, joked with them that it was absolutely something my dad and I would strap surfboards to and drive the Cali coast.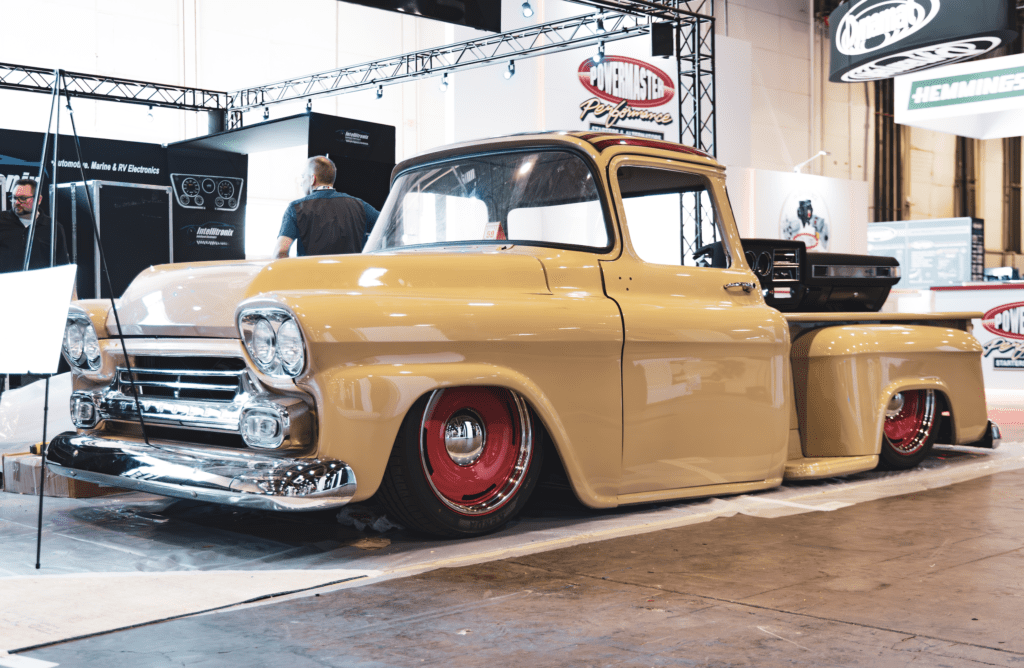 The one and only Eddy Cebreco with his 12 year 3100 build debuting at his 19th SEMA!
We all know him, we all love him, and we are all PROUD of him for getting Burnadebt to SEMA! We've been working with Eddy and Jason at AMD on their personal builds and on plenty of others projects where our products are both featured. Burnadebt has been a long anticipated build from Eddy, and it definitely is an excellent extension of him. He's got on our John R's, pulling the red from his interior and custom roof through the build. Only thing really missing is the seat, which in the most Eddy of ways was explained to show viewers through the poster her had inside of his build. Hey, why explain the same story over and over again when you can eloquently display it for everyones viewing pleasure, much like a certain burger order.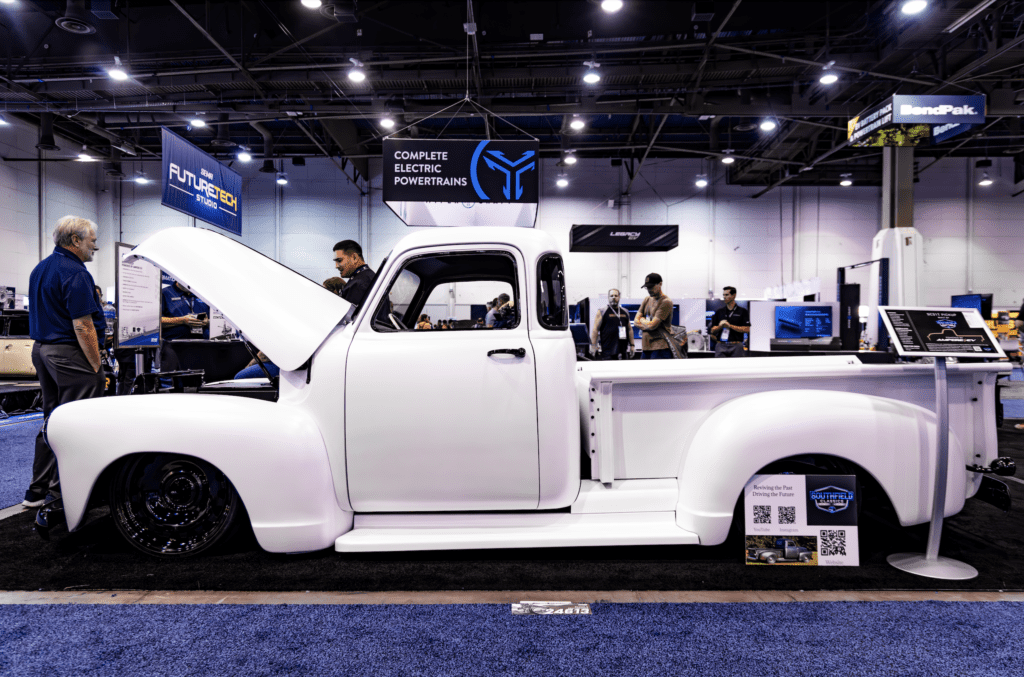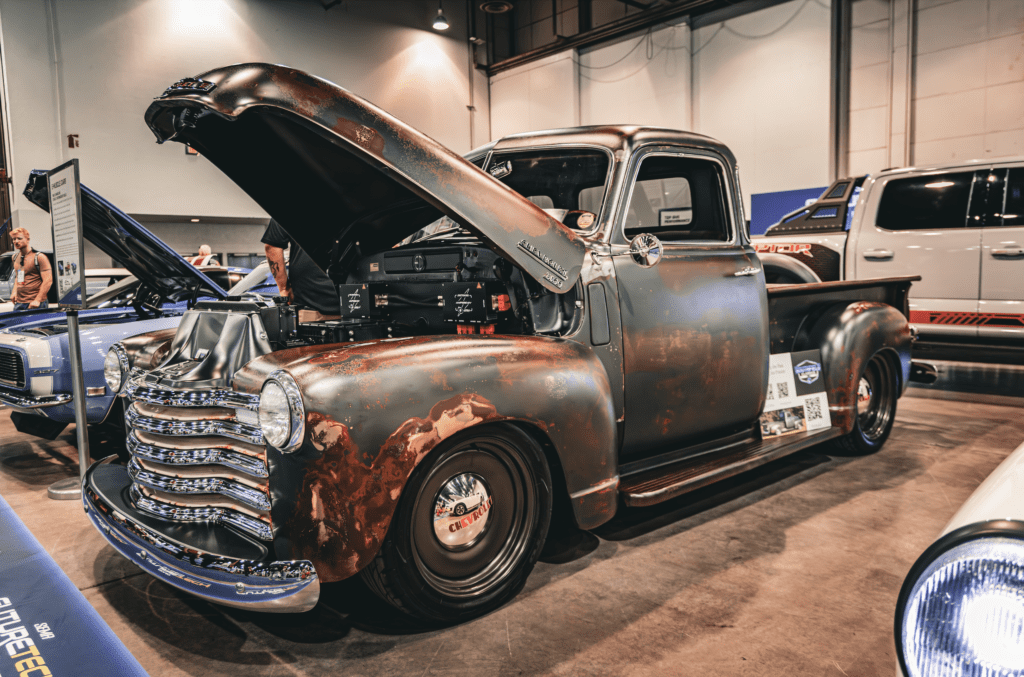 Dan from Southfield Classics built these two badass 3100's on our Detroit Steel Wheels
Another surprise was Dan and his Southfield Classics EV swap 3100's, displayed out at the Futuretech area in central hall. I saw a couple videos that they were posting getting set up on Sunday, and when the cell service and wi-fi operates at an all time low, a little sleuthing from photo clues usually helps me find whose where. Dan has been with Southfield Classics a little over a year now, bringing these builds to SEMA to show off their capabilities EV swapping hotrods and keeping that classic look. Got a great interview with him talking about what their doing, what he's done, and celebrating his family being a part of it all!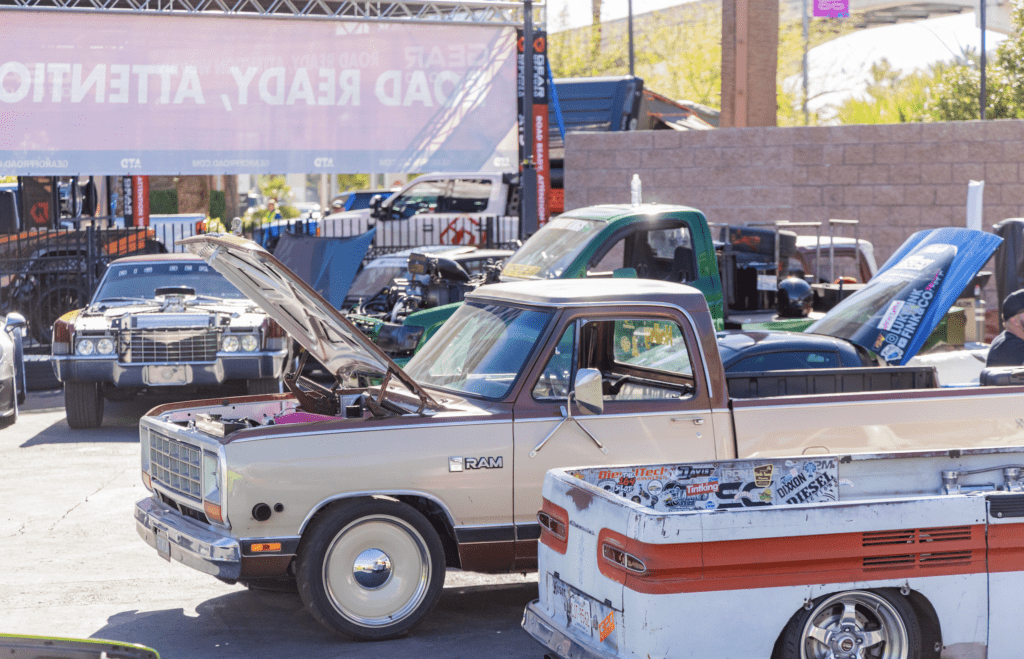 Lacey TORE IT UP in the Burnyard!
My absolute biggest regret this trip was not making it to the Burnyard in time on Tuesday to catch Lacey schooling everyone in the D150 on our D-Town's. Really good people to work with that do such a great job capturing the fun and hard work that goes into these projects.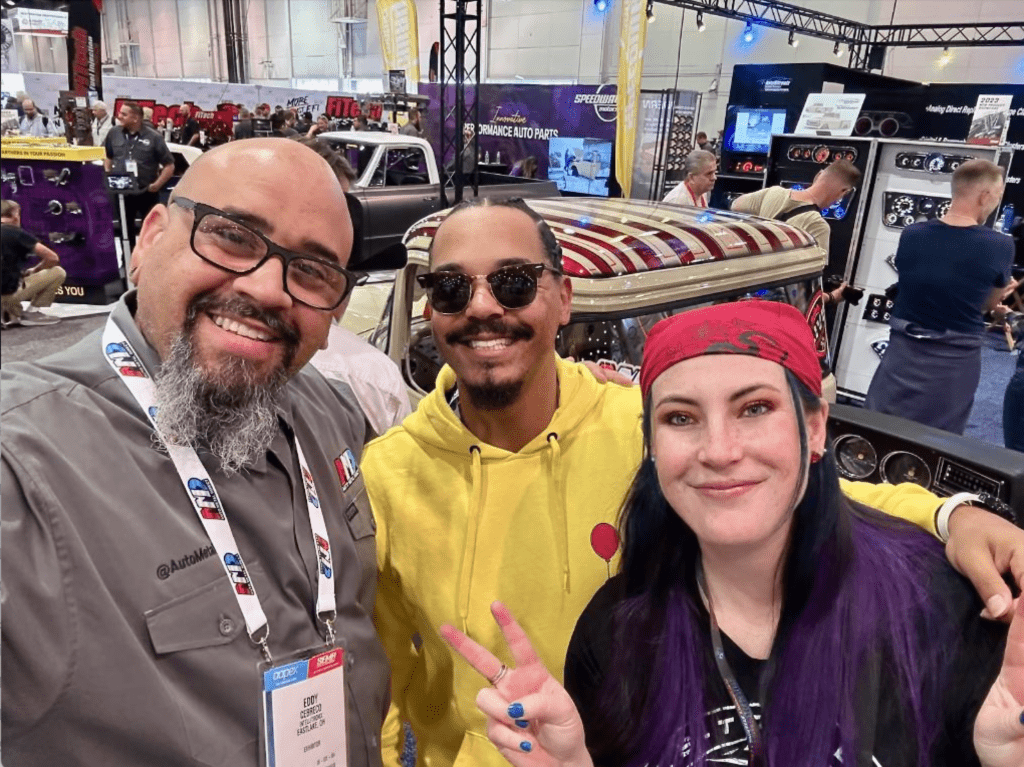 Eddy, Garrett, and me <3
It was an absolutely fantastic SEMA show with an amazing group of our Detroit Steel Wheel fam, I'm working on our interviews that will be posted on our Detroit Steel Wheel YouTube for your viewing pleasure. I'll pop back on here and make sure those links are posted with each pic, but for now check out more shots of everyone at the show below!